Biking around Mackinac Island is the most popular, if not obligatory, experience when visiting Mackinac. Bring your own bike over on the ferry for a $13 round-trip fee, or rent a bike by the hour, half-day, or full day at any of the rental shops in town. Each shop offers a variety of single- and multi-speed cruisers, tandem bikes and Tagalongs, and bike trailers for safely towing small children (e.g., Burley, Wehoo). It's helpful to note that Cloghaun offers a bike rack in the side yard for our guests—just remember to bring your own bike lock!
Mackinac Island Bike Shop, located on Main Street next to Shepler's ferry dock, is the closest Cloghaun. Simply walk down Hoban Street and take a left on Main Street—it's right there. In addition to its proximity, we like Mackinac Island Bike shop for its service. They are fast, friendly, and fair. There's no deposit required, you pay when you return, and all rates are pro-rated after the first hour—so you only pay for what you use. We also like their fleet of quality TREK bikes. The friendly staff will quickly set you up with a right-sized bike—along with a complementary basket, helmet, and bottle of water bottle—and you'll be on your way. It's quite an efficient operation. But, really, any of the Island bike shops will do.
Biking Mackinac Island
At Cloghaun, for a variety of reasons including our location, we prefer to bike around the Island clockwise, at least the first time. Heading out our front door, turn right down Market Street and Lake Shore Drive is just down the hill. Simply take a right when you hit the water, and you're off. Don't let the crowds of bikes in and around town intimidate you. A few minutes outside of town, after you pass the end of the boardwalk, the crowds will dissipate and you'll feel as if you're exploring your own island.
The 8.2-mile journey around the Island should take you 1.5-2 hours, depending on how many times you put down that kickstand to enjoy the views and attractions along the way. Here's a helpful map, but maps are also available at Cloghaun and the various bike shops. Note that the mile marker numbers start at zero in front of Fort Mackinac and increase as you go counter-clockwise around the Island to 7.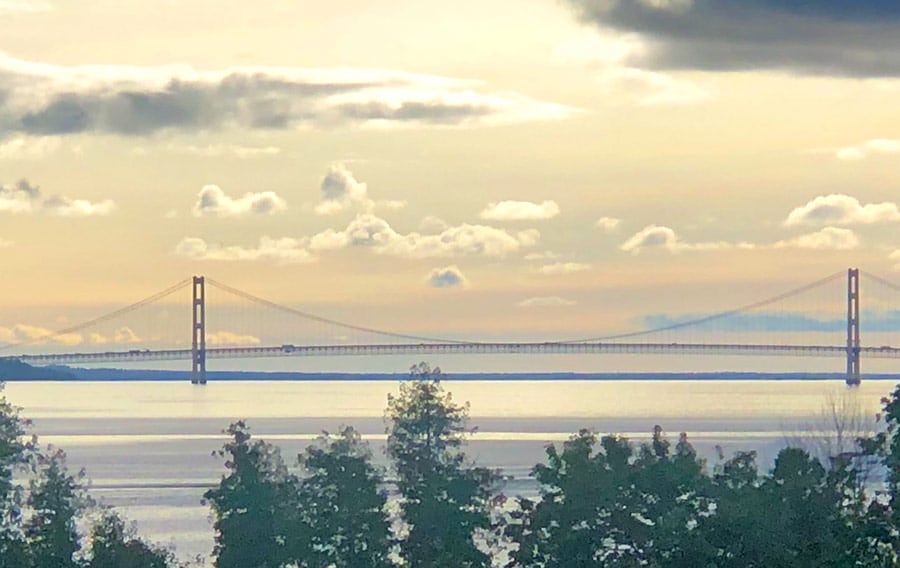 For the initial stretch along the Island's southwestern shore, enjoy expansive views of the mainland and the "Mighty Mac"—the fifth longest suspension bridge in the world. You'll also pass Devil's Kitchen, a cave that was carved during the Nipissing post-glacial period by the waves of Lake Huron. Griffin Cove makes for a nice spot to take some photos of the Straits and the Bridge.
Roughly 3 miles from where you started at Market Street and Lake Shore Drive, about halfway between mile markers 5 and 4, you'll arrive at British Landing, which offers refreshments, bathrooms, and historical landmarks. It's a fine place to stop for a quick rest and a photo on top of the old cannon.
At mile marker 4, you'll swing around Point aux Pins at the northernmost tip of the Island and then start the trek down the long eastern side. The crystal-clear water is often dead calm on this side of the Island, making it ideal for picnics, wading and swimming, and the time-honored Mackinac pastime of skipping stones. After all, Mackinac Island is prime stone skipping country. The water on this shoreline is so calm and so clear, it can be hard to tell where the beach ends and the water starts. It's really quite peaceful. And though it's harder than it used to be to find the coveted Petoskey stone on the beaches of Mackinac Island, that doesn't stop some of us from trying.
Throughout the 3-mile long stretch down the eastern shoreline, you'll come across many Insta-worthy photo opportunities on both sides of the roadway. Whenever you choose to stop along your ride, be sure to pull yourself and your bike fully off the road so as not to impede other bikers.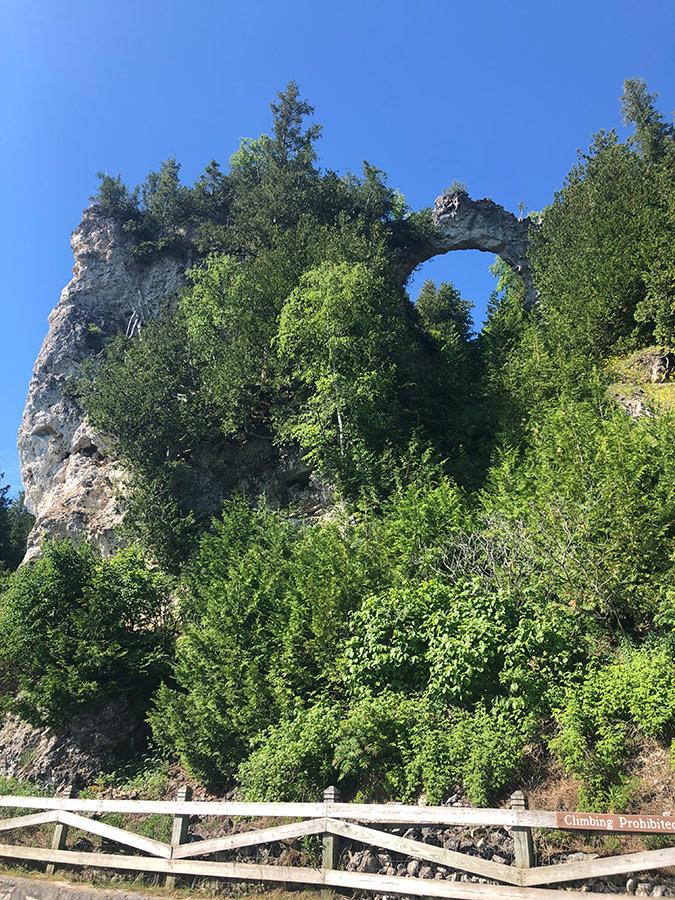 As you approach mile marker 1—roughly 6.5 miles into your loop if you started at Cloghaun—you'll arrive at one of Mackinac Island's most noteworthy visual attractions: Arch Rock. This geologic formation stands 146 feet above the Lake Huron shoreline, with an arch that is over 50 feet wide. There will inevitably be somewhat of a crowd at Arch Rock, either coming or going, so be careful on the road here. There are several good stopping points along the water that will offer a good view of the arch. For those masochists looking for a strenuous workout, there is also a long and steep stair climb (approximately 207 steps) that will take you from the road right up to the top.
Continuing past Arch Rock, you are now in the home stretch. As you round Mission Point, you'll begin to see the outskirts of town. On your left, you'll eventually come upon the massive and beautiful Mission Point Resort on your right and, in front of it on your left, the Great Lawn. This expansive lawn, with its welcoming (and plentiful) Adirondack chairs, is one of our favorite places to relax and enjoy a bottle of wine or a couple of cocktails or beers. If you haven't brought your own beverages in tow, simply head up to the Round Island Bar—a very cool bar that you'll spot by the large glass rotunda—and order some refreshments to take out to the lawn.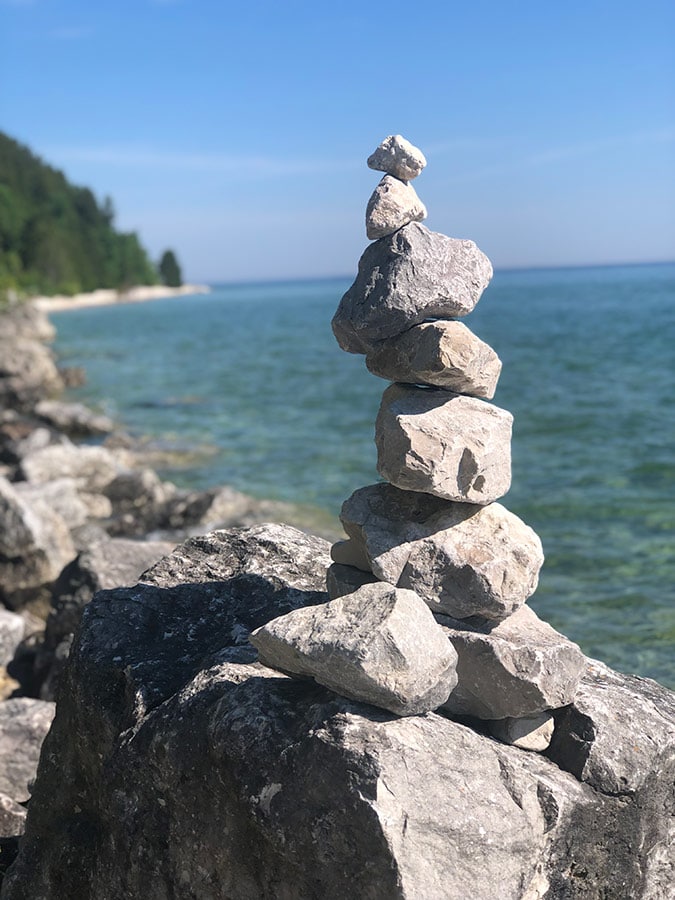 Once past the Great Lawn, the only thing left to do is bike the rest of the way into town. On the way, you'll pass many of the beautiful Victorian homes for which Mackinac is famous. You'll also pass Ste. Anne's Catholic Church on your right, which dates to the early 1800s. If you ever decide to check out the inside of the church, which I recommend, see if you can spot the large stained-glass window—located at roughly the "50-yard line" of the church—that is inscribed, "In memory of Tho's & Bridget Donnelly," my great-great grandparents who built Cloghaun in 1884. (Read more about Cloghaun history). Continuing onward, you'll pass along the Harbor on your left and eventually reach the Fort above you on the right and the bustle of downtown. You made it—time for some hard-earned lunch.
If you're planning a trip to Mackinac Island, consider a stay at the historic Cloghaun Bed and Breakfast, we're conveniently located within walking distance to ferries, shops and restaurants. View our guestrooms, and book your Mackinac getaway today!