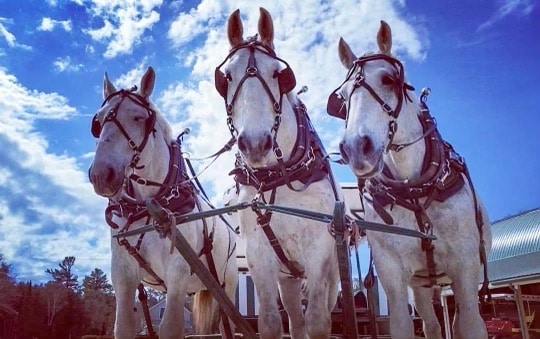 Imagine a place without the honking of horns or revving of engines (even the super quiet hybrid engines). What would you be able to hear? What sounds would your ears tune to? Perhaps this world is full of the songs of birds. Maybe you are able to focus on the slightest hum of the wind.
If this resonates with your soul, you have to visit Mackinac Island. The island is less than five square miles and cars have not been allowed for more than 100 years. Instead of the polluting congestion of automobiles, the streets are filled with the clip clop of horses. On Mackinac Island everything is achieved by humans walking or biking or by literal horse power.


Why Aren't There Any Cars?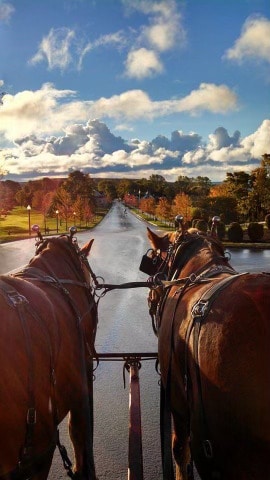 People did bring cars to the island in the 1890s. By 1898, the town and the local residents decided enough was enough. They did not like the noise and the horses were getting spooked. They banned all motorized vehicles with the exceptions of a few emergency vehicles. It turns out that their decision has only added to the appeal of visitors wanting to explore the island.
How Many Horses are on the Island?
During peak season, there may be up to 600 horses on the island. That is more than the number of year-round human residents. A few horses live on the island all year, the rest spend the winter on a farm in Michigan's Upper Peninsula.
Can I Use Horse Transportation While on the Island?
Absolutely! There are many opportunities and options for those who wish to be part of the culture of horse power on the island:
Private carriage tours are available on demand. They can carry between two and eight people and are rented by the hour. Learn about the island's history from knowledgeable drivers as they bring you around the island. Reserve a carriage in advance if you wish to be picked up at your hotel. Otherwise, head to Marquette Park to find carriages waiting to provide tours.
Rent a saddle horse at Cindy's Riding Stable or Jack's Livery Stable. Guides are available. All levels of riders are welcome.
Jack's Livery Stable provides the unique opportunity to drive your own horse carriage. They will teach you how to drive and share information about designated routes to take.
Tours, lessons, and horse boarding are available at the Equestrian Center. Guests can also just visit to interact with the horses.
Forget hailing a yellow cab, Mackinac Island has horse-drawn taxis. The taxis charge a set fee per person, can carry up to 12 people, and are available 24 hours a day.
Two museums provide information about the horse culture on the island. The Grand Hotel Stable and Carriage Museum houses 12 horses in its working stable and displays 30 antique carriages and sleighs. The Grand Stables are free and open to all visitors. The Surrey Hills Carriage Museum boasts a working blacksmith shop. It has shops for food, gifts, and souvenirs, and features a picnic area.
While most visitors won't be hauling freight, lumber, or pianos, dray service is an option for those who need it. Don't be surprised to see a delivery go by on a horse-drawn flatbed wagon. They may be transporting food or mail from the ferry docks.
Do the Horses Get Tired of Doing All the Work?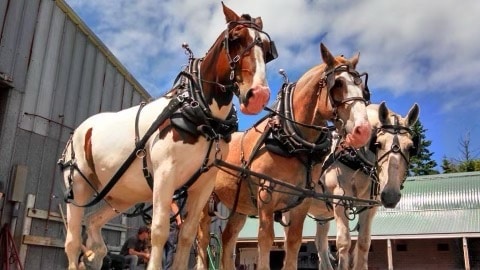 The horses on Mackinac Island are well cared for. So much that they get to takes breaks in the middle of rides for rest and a snack. There are also many people employed in horse care:
Barn workers clean and feed the horses.
Drivers give their horses a bath at the end of each shift.
Certified farriers make sure hooves are in tip-top shape.
Veterinarians make sure all of the horses are healthy. The Mackinac Island Carriage Tours has five veterinarians on staff just for the horses that work for them.
Don't the Horses Smell?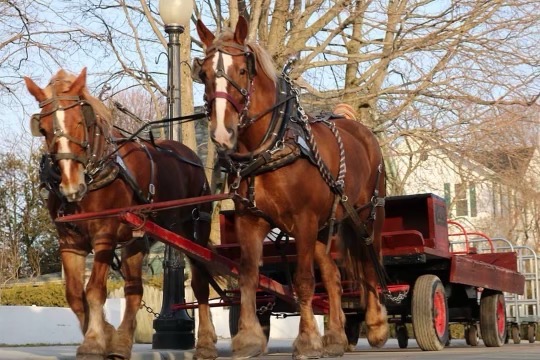 Full-time employees scoop up the horse manure and deliver it to composting facilities on the island. The streets are continuously cleaned and flushed with fresh water each night.
Are there Special Rules for the Horses on the Island?
There is an etiquette that all people are expected to abide by when it comes to the horses. Always ask permission before petting a horse. Horses have right of way, even over pedestrians. Safety is key; helmets are required when riding a horse.