There are many great Mackinac Island Restaurants. Part of the fun of visiting Mackinac Island is trying new restaurants and returning to old favorites. This is a list of our favorites at Cloghaun. We will update these selections as needed as new entrants earn our appreciation, or any of these start to go downhill. Until then, give our recommendations a try and let us know what you think. And please let us know if we can answer any questions or we can help you book a reservation.

Woods Restaurant ("The Woods"), owned by the Grand Hotel is a Cloghaun favorite and, in our opinion, a restaurant "must do" on every visit to the Island. We believe it's the best end-to-end dining experience on Mackinac Island (and perhaps in Michigan), in large part due to the charming trip there and back via Mackinac "taxi"—a horse-drawn carriage.

The Carriage House (at the Iroquois Hotel) is one of the Island's finest restaurants, serving classic American cuisine and offering selections of fresh local seafood from the Great Lakes. Moreover, you'll be dining in one of the Island's most beautiful settings. Both their glass-enclosed dining room and the outdoor waterfront verandas offer fantastic views of the Straits of Mackinac. Enjoy nightly entertainment at the piano bar. Few Island restaurants offer such a pleasing ambience, with the food to back it up. Be sure to try one of the many desserts topped with their signature Iroquois Hot Fudge.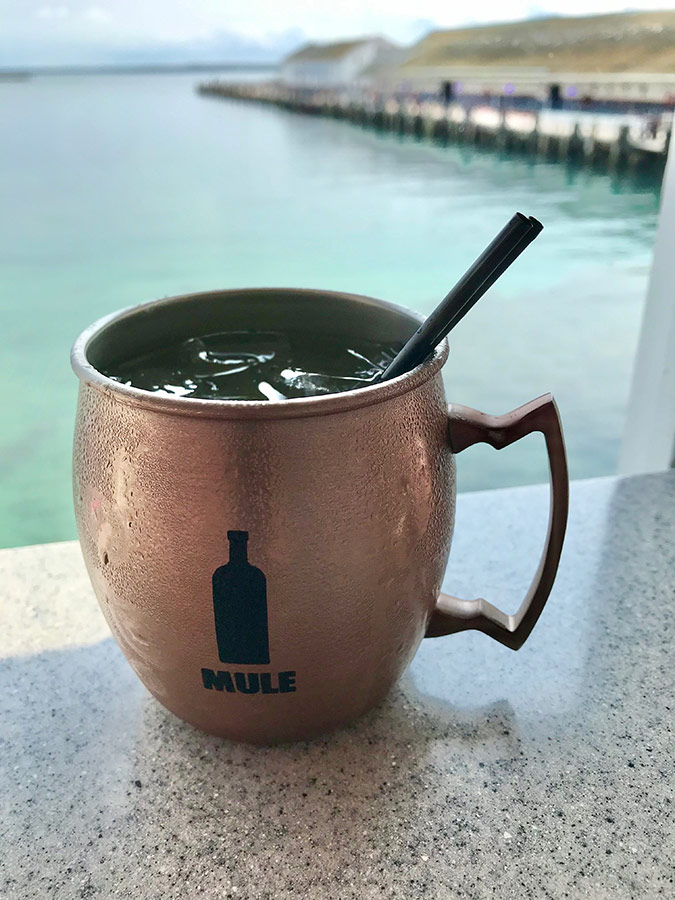 Pink Pony, located within the Chippewa Hotel, is a Cloghaun favorite. It''s our #1 choice on the Island for a leisurely outdoor brunch or lunch. The back patio and upper deck overhanging the harbor is the perfect spot to spend an afternoon sipping cocktails and watching the ferries come and go. They claim to be famous for their whitefish dip and burger, which are indeed great, but we could order nearly anything off the menu and be perfectly happy. The patty melt is one of the best. The cocktail program is very solid as well—try one (or four) Mackinac Mules on a hot day. Good news for parents—kids also love this place. Kids love to swim in the crystal-clear water here, jumping in right off the back patio, and then warming up in the adjacent large "hot tub." The Pink Pony is a popular spot—for good reason—and they don't take reservations. Therefore, swing by early, put your name in, and they'll text you when your table is ready. Keep in mind that the Pink Pony is also one of Mackinac's most happening nightlife spots, with live music and a lively bar crowd until midnight.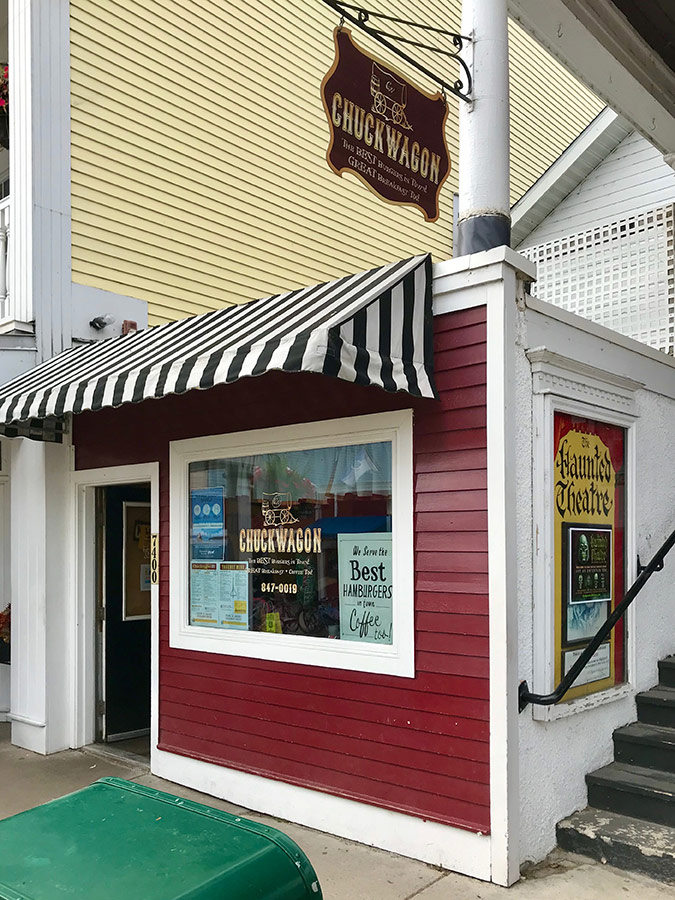 The Chuckwagon – Any serious list of America's best diners should carve out a spot for this Mackinac Island institution that's been slinging incredible breakfasts and arguably the Island's best burgers since the 1950s. The Chuckwagon may be tiny, but it packs a major punch with fresh ingredients, great cooking, and friendly service. If you're looking for casual but delicious breakfast or lunch options, "come & get it" at the Chuckwagon.
The Jockey Club, owned by the Grand Hotel, overlooks the first tee of The Jewel, the Grand's golf course. It offers covered outdoor seating for some top-notch people- and horse-watching, and it has a quaint and cozy indoor dining space. Whether for lunch or dinner, the food and setting combination puts this restaurant among the Island's best. Take note: for dessert, The Jockey Club (like The Woods) serves the Grand's signature dessert, the Grand Pecan Ball. It's incredible.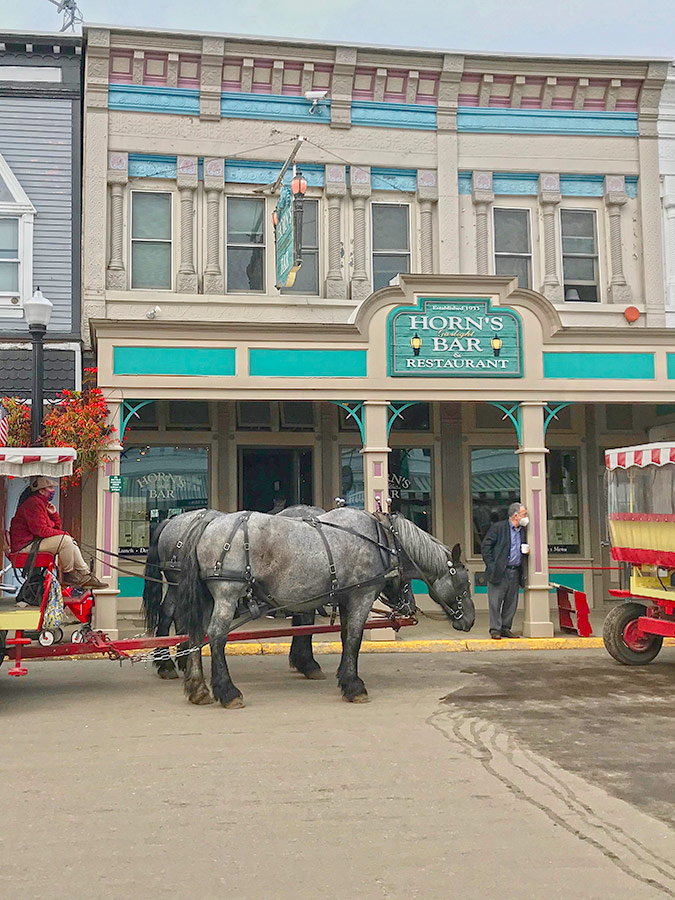 Horn's Gaslight Bar & Restaurant – Cloghaun has always been huge fans of Horn's. It's a lively, friendly place serving solid Mexican and Southwestern cuisine, with some American standards mixed in. Established just after prohibition, Horn's continues as a family-owned business today, currently run by the fourth generation, Patti Ann and Steve Moskwa. Horn's is always a party, one of Mackinac Island's top nightlife destinations, and they maintain a steady schedule of live music acts that have a way of turning diners into dancers. It's a great joint.
The Gate House – One more Grand-owned restaurant to round out this Cloghaun list, located towards the bottom of Cadotte Avenue, just a short walk down from the Grand Hotel, and right around the corner from Cloghaun. For us, the Gate House is all about the outdoor patio, which offers a great setting for some al fresco lunching. They also have a nice indoor space with a fireplace for those chillier days and evenings and TVs for when you want to catch the game. The food is solid with a nice mix of options, as you would expect from a Grand establishment. The service can be slow at times, so just relax and enjoy the beautiful outdoor setting. And, yes, they serve the Grand Pecan Ball!
Honorable Mentions of other Mackinac Island Restaurants
Back at Cloghaun Bed and Breakfast, you'll be treated to a hearty breakfast each morning to ready you for your day of exploring. Consider us for your next stay on Mackinac Island, Check Availability and Book Today!