The Island is located on Lake Huron so you cannot drive here, unless your car magically turns into a boat or submarine. Even if you could drive here, cars are not permitted on the Island. So, as you begin to make vacation plans, you will want to take into consideration these important details for stress-free travel. Luckily, it can be very easy to travel to Mackinac Island, and the journey here is all a part of your vacation adventure. So, no matter where you are coming from, we have information on flying, driving and taking the ferry to the Island.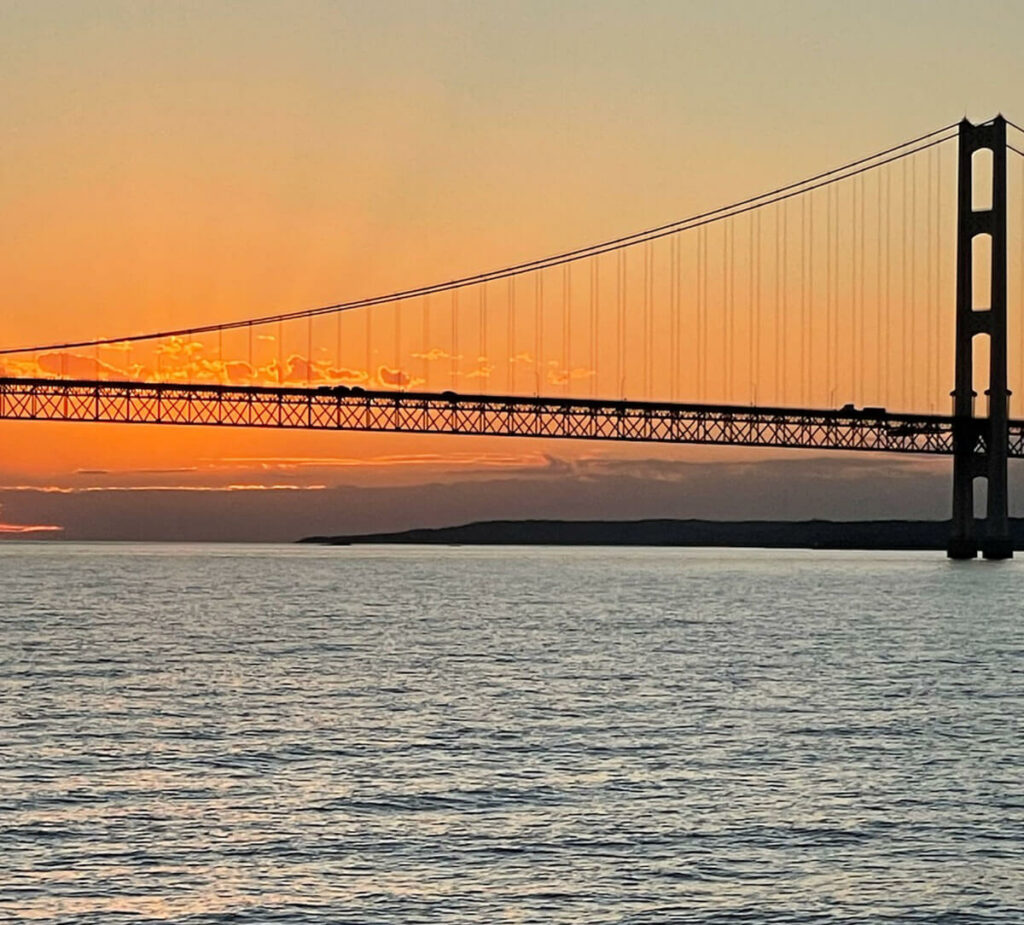 Flying to the Island
Pellston Regional Airport has daily flights to and from Detroit. Check with Delta for the most current schedule. The airport is a 25-30 minute drive to and from the ferry docks in Mackinaw City. The Mackinaw Shuttle provides service to the ferry docks. This is the closest airport, and you will want to make sure of the arrival time into Pellston, consider the shuttle drive time, and the ferry service schedule as some flights arrive late at night after the ferry service has ended for the evening, thus requiring accommodations to stay the night of arrival off the Island.
Sometimes it can be more economical plus more flights offered to fly into a commercial airport and rent a car. As an added benefit, you get to see more of the area on your road trip. Some people opt to extend their vacation with a few days at the beginning or end of their trip in one of these cities: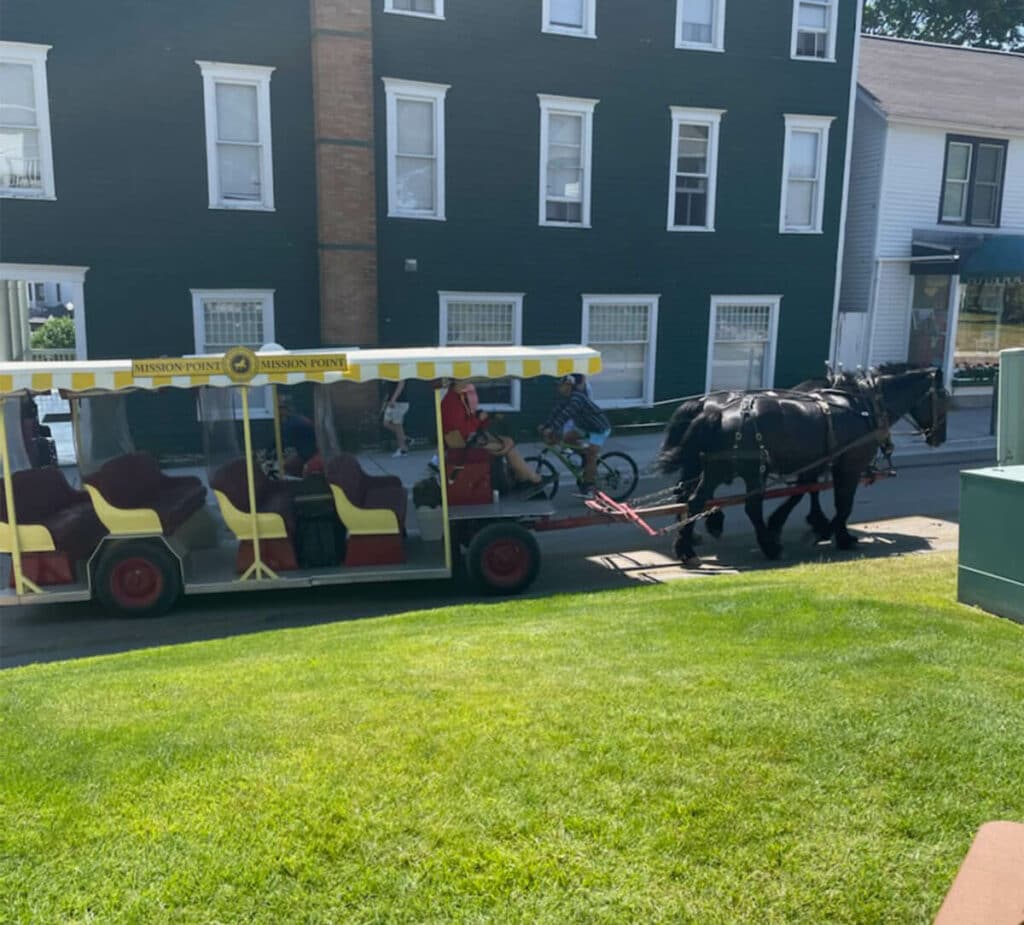 Cherry Capital Airport in Traverse City, Michigan is only two hours from Mackinaw City. Depending on the route you take, it can be a very pretty drive along the Grand Traverse Bay. American, Delta, United, and Allegiant airlines all fly into Traverse City.
Gerald Ford International Airport in Grand Rapids, Michigan is an option for travelers who like to use Southwest. The airport is serviced by five more airlines and it is a three-and-a-half-hour drive from Mackinaw City. If you land early enough or spend a night in Grand Rapids, you can visit the Frederik Meijer Gardens and Sculpture Park before making the drive.
Lastly, Detroit Metro Airport is going to have the most options for flights each day. It is an easy four-hour drive on Route 75 most of the way.
There is also an airport on Mackinac Island if you want to charter a flight from Chippewa County, Pellston Regional, St. Ignais or your favorite airport. Commercial airlines do not land at Mackinac Island Airport. The downtown area from the airport requires a horse-drawn taxi service by calling 906-847-3323. Options for charter flights include: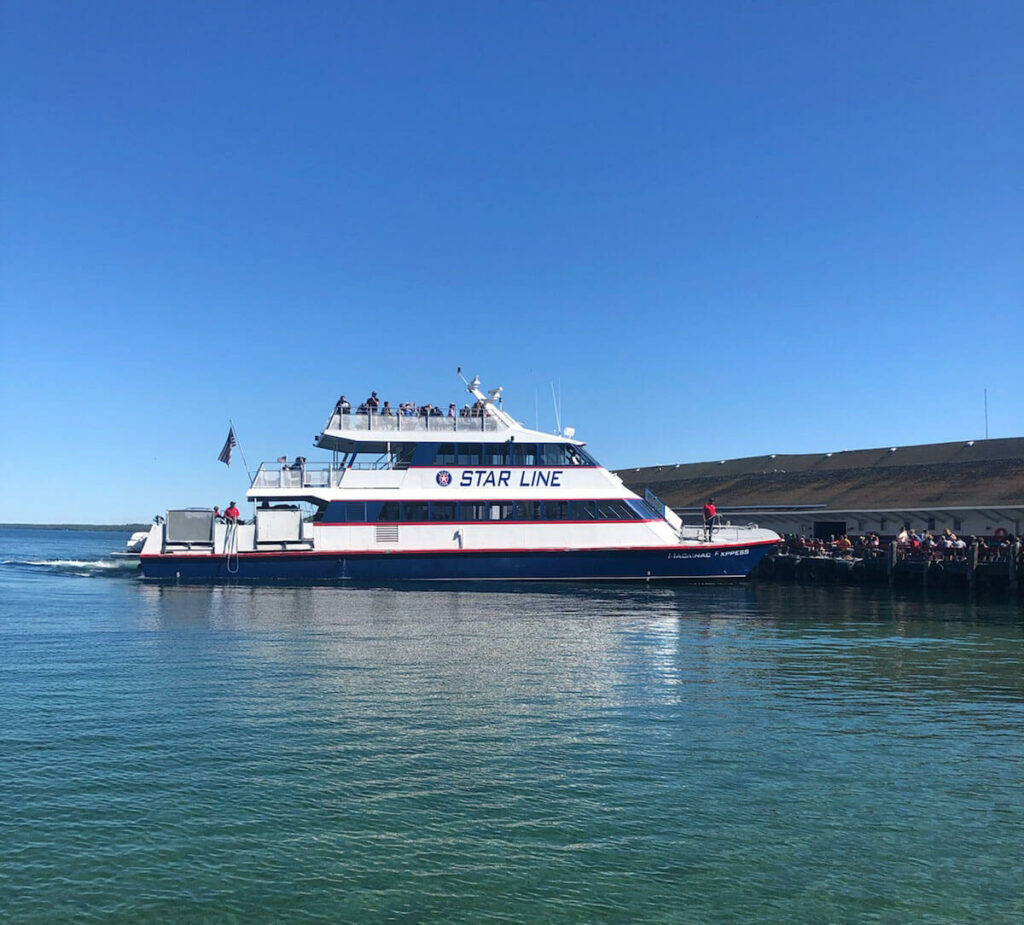 Ferry Services
Taking a ferry from Mackinaw or St. Ignace adds the excitement of a boat ride along with beautiful scenery for your trip to the Island. This will be the transportation service for most travelers coming and going by car or shuttle. Advance tickets are not required for the ferry services, but they will help you avoid long lines especially during the high season. Most of the ferries advise that you arrive at least one hour prior to your desired departure time. Follow these recommendations for a seamless and enjoyable trip across to the island:
When you pull into the ferry dock head to the unloading area, make sure all of your luggage has proper identification so it can be put onto carts to be loaded onto the ferry for you.  
All of the ferry locations have a variety of parking options. Review the websites for each to choose the option that fits best for you.
Once parked, head back to the ferry dock. Restrooms facilities are available at the ferry terminals though not on the ferries so plan accordingly.
Join the line for your ferry. Consider bringing an umbrella as a sun shade and water to keep cool while waiting for the boat. There is limited covering or shade while waiting in line.
The ferries can be busy during peak season. Make friends with the people around you. Share ideas for activities and learn from return visitors.  It's all part of the experience of Mackinac!
Once you are on the boat, sit back and enjoy the 18-25 minute ride. Don't forget your camera so you can take funny selfies, wide shots of the Island, and photos of the glorious Mackinac Bridge.
Once the boat docks at Mackinac Island, the luggage carts and bicycles will be unloaded first. 
You may be tempted to explore paradise as soon as you step off the boat, though do not forget to claim your luggage first from the carts. Dock porters are ready and waiting to assist you by bringing your luggage to your specific lodging via bicycle (don't forget to take pictures of your bags attached to a bicycle via bungee straps). Some of the porters work for particular hotels but they work as a team and will find you the right person for your job.
Take the eight-minute walk up the hill, cross Main Street in the downtown area to proceed to Cloghaun Bed and Breakfast at the address of 7504 Market Street.
Your luggage and your helpful porter will be waiting for you at the inn. Don't forget to have cash on hand to tip them. 
Mackinac Island Ferry Company is the longest running ferry service to the island. They have hydro-jet ferries that depart from both St. Ignace and Mackinaw City. Add an extra bit of adventure to your ferry travels by choosing the Pirate Cruise option. Mackinac Island Ferry Company offers this service Tuesday through Saturday from mid-June until the beginning of September.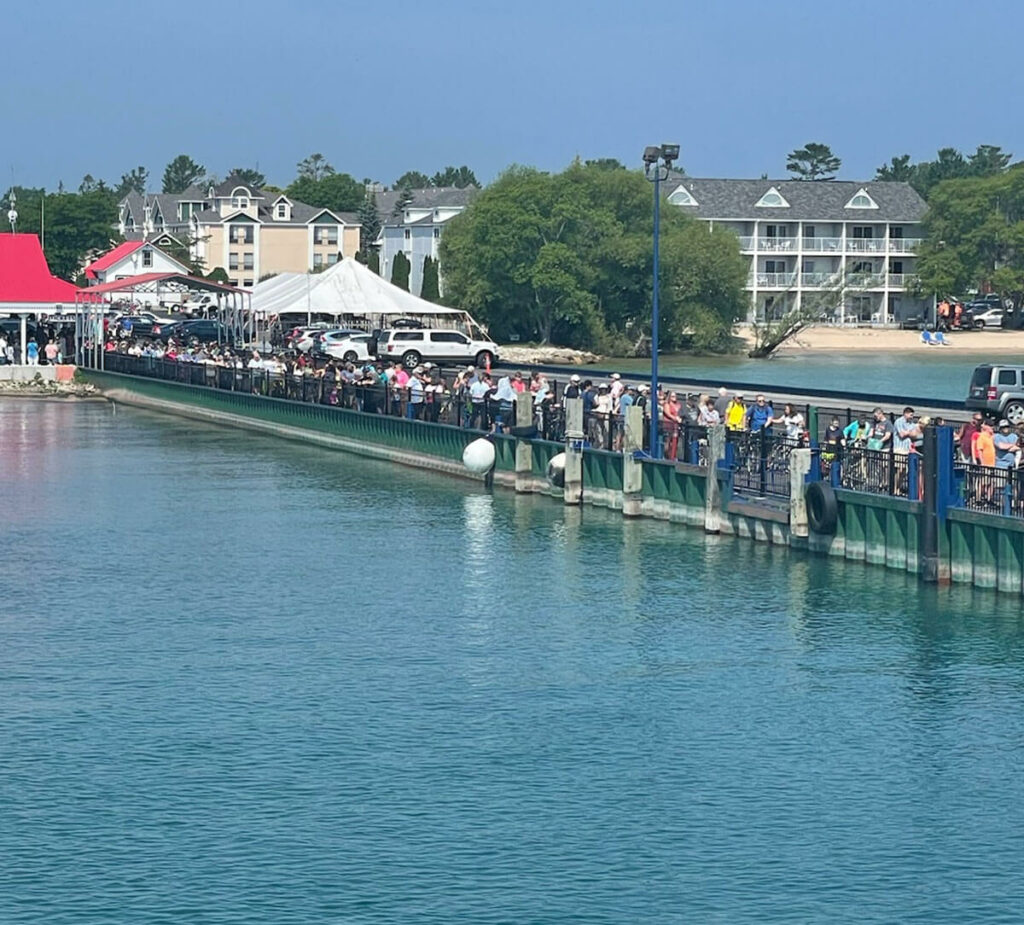 If you choose Shepler's Ferry you can choose a ferry that goes directly to the island or one that takes about ten minutes longer and travels under the Mackinac Bridge. How often do you get to travel under an expansive, landmark bridge? Ferries run mid-April through the end of October. Fewer departure options are available in the fringe season.
Don't hesitate to contact us if you have questions. Once you've been to Mackinac Island you will be an expert in getting here. We look forward to greeting you soon!